Meet Carlos!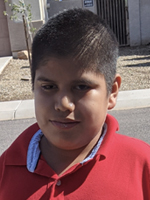 Eight year old Carlos loves to be outside and playing in the pool. Carlos is an intelligent child who is capable of a lot, but needs to be pushed out of his comfort zones. Carlos enjoys helping around the house with chores and seems to take quiet an interest in vacuuming. Carlos enjoys all types of food and his team would describe him as being "not a very picky eater."
Carlos is in the second grade, he is DDD and ALTCHS eligible and is in a special needs classroom.
The best fit family for Carlos would be a two parent home that has experience working with the special needs population. Carlos will do well with older children or being the only child in a home. He will need a family who can provide long term care.
For more information about Carlos, please contact Brianna Rossi at (602) 930-4601 or via e-mail at brossi@aask-az.org.