Meet Kimberly!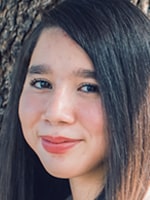 Fashion demands focus. There is measuring fabric, cutting the fabric and stitching seams. Fortunately, 11-year-old Kimberly has an abundance of focus as Naomi Ellis, a fashion design instructor at Phoenix College, guides her through the construction of a purple skirt.

While the session was Kimberly's first time sewing, it wasn't the first time she has made something with her hands. She likes to keep herself busy with all sorts of arts and craft projects.

"I like to play and goof around and color, too" she adds.
Kimberly also has an athletic side.

"I like to play sports outside like volleyball and soccer," she says, adding that her volleyball team is on a winning streak.

Kimberly also likes swimming and basketball.

Kimberly is an honor roll student who declares math as her favorite subject.

"I do love school," she says.

Kimberly says she is proud of being a good friend.
"My friends would describe me as funny, nice, kind and helpful," she says. "If they're sad, I'll cheer them up with a joke. Or, if they're alone at recess, I'll join them."

Kimberly says she dreams of a forever family with a mother and a father that is "an adventurous family and an arts-and-crafts family."

She would like siblings, especially if she could be the youngest child in the house.

Because she wants to be a veterinarian when she grows up, Kimberly hopes her forever family would support her ambition of going to college.

"What I will bring to a family is caring and trustworthiness and responsibility," she says.
For more information about Kimberly, please contact Brianna Rossi at (602) 930-4601 or via e-mail at brossi@aask-az.org.