Meet Alfred!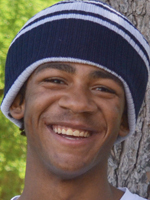 The world is a wonder when you're in pre-school.

Attending pre-school is making a major difference in the life of 3-year-old Alfred.

"Not long ago, he was quite shy and not very verbal," says Monique Garcia, a child recruitment specialist with Casa de La Niño's.


But that is changing as Alfred – also known by the nickname of Freddy – interacts with children his age at pre-school. The happy-go-lucky boy has blossomed, Garcia says.

He loves learning, she adds, and is quickly absorbing the toddler curriculum of colors, shapes, numbers and letters. His language skills are much improved because of the time spent with other children and talented teachers.

"He is able to verbalize what he needs," Garcia says.

But, what Freddy likes best about pre-school is simply playing with his new friends.

"He is very active," Garcia says. "He likes to share and plays well with other children his age."
There is no telling how much Alfred can blossom once he is deeply rooted with a forever family, says Garcia.

"The ideal family for Freddy is a family of Native American heritage, because he is a Native American child," Garcia says, but they are open to placing Alfred with any family willing to honor his culture.

"Freddy would be able to fit into any family dynamic," Garcia says, as the toddler tumbles and climbs at The Little Gym of Litchfield Park.

A forever family for Alfred could include a single-parent household, a two-parent household, a household with children or a household in which Alfred would be an only child, Garcia says.
For more information about Alfred, please contact AASK at (602) 930-4900 or via e-mail at info@aask-az.org.