Meet Giovanni!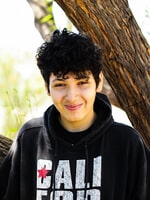 Fourteen year old Giovanni, who prefers to be called "Gio," can light up a room with his infectious smile and personality. Gio enjoys anything mechanical or electronic, especially cars and Legos. He has even constructed his own "Gio City," which consists of buildings that are made out of pieces of wood and old cardboard boxes. Gio city is composed of cars, trees and even a downtown area with high rise buildings. His favorite activity is adding to Gio City, which is currently taking up an extra bedroom in his foster home.
Other than working on Gio City, he enjoys playing basketball with friends, video games, computer games and going to the animal shelter to play with cats. Gio is a picky eater, when it comes to foods that he is not familiar with and his favorite food is French fries, especially McDonald's French fries.
Gio has an excellent memory that helps him educationally. He is currently in the 8th grade and has an IEP in a self-contained classroom.

Gio would do best in a two-parent home where the parents are familiar in working with autism. He will need a home that can provide him with appropriate structure and a constant routine while providing a lot of love and attention. Gio does well with children in the home and will get along with both younger and older children.
For more information about Giovanni, please contact Brianna Rossi at (602) 930-4601 or via e-mail at brossi@aask-az.org.