Meet Faizon!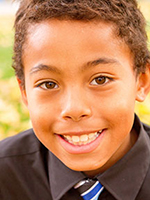 When 10-year-old Faizon runs into a challenge, he likes to solve it himself.

Tying a neck tie has befuddled men and boys of all ages for eons. When Faizon needed to dress up, he went online and searched for instructions. There was some trial and error involved, but he taught himself how to tie a neck tie.

That curiosity and follow through is reflected in Faizon's academic performance. His latest report card was mostly As with one B and one C.
"Faizon really enjoyed working with a partner on a recent science project," says Ashleigh Pierce, Wendy's Wonderful Kids recruiter with Aid to Adoption of Special Kids (AASK).

When playing at home, Faizon loves building with LEGO® bricks, which provide an outlet for his imagination and love of precision.

Faizon says he would like to be an engineer or inventor when he grows up.

Like many boys, Faizon loves to fish. He has a fondness and fasciation for all animals. His favorite television shows are nature programs and he is now working with horses, gaining confidence with the big animals as he learns new skills.
Faizon loves skateboarding and sports, including baseball, basketball and flag football. He recently started taking boxing lessons at the YMCA. While he is willing to try new foods, his favorite food is a simple classic: mashed potatoes.

"Faizon would thrive in a skilled two-parent home that will be able to provide him with the amount of attention and love that he desires," says Pierce. "He needs parents who will provide structure and routine from the start."

Faizon would do best in a home with no other children or with children who are older.
For more information about Faizon, please contact Ashleigh Pierce at (602) 930-4465 or via e-mail at apierce@aask-az.org.